Sylvester McCoy
Seventh Doctor
1987 - 1989
Virgin New Adventures

From 1991 until 1997 Doctor Who Books (part of Virgin Publishing Ltd.) produced a range of full length novels continuing the adventures of the seventh Doctor after the series was cancelled. The New Adventures were more broad and deeper than the television adventures, and showed a darker and more manipulative side to the seventh regeneration of the Doctor. The New Adventures featured Ace as the Doctor's companion, but she later left, and new companions joined. After the seventh Doctor regenerated there was one new adventure featuring the eighth Doctor in 1997.
I am far more than just another Time Lord.
Death And Diplomacy by Dave Stone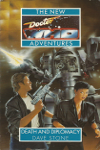 Published: 1996 Doctor Who Books
No. of Pages: 280
ISBN: 0 426 20468 9

Three mighty empires poised for war!
In the far-off Magellan Cluster, the savage Dakhaari, the militaristic Czhans and the evil backstabbing Saloi are at each other's respective throats over the tiny, peaceful planet of Mariel. The Hollow Gods have decreed that a satellite be built in which they must settle their differences or else. But just who has the tact and diplomacy to arbitrate these talks?
Meanwhile, Roz and Chris are on Mariel with the Czhanist army, knocking seven bells out of the native populace. Why have they launched this sneak attack? Will it wreck the talks completely? Are they participating in the Hollow Gods' hidden agenda - a plan that will result in the death of billions?
And while the others are otherwise occupied, Benny is stranded, lost and alone, facing the most terrifying challenge of her life - someone who will haunt her for the rest of her days. He's called Jason.
Happy Endings by Paul Cornell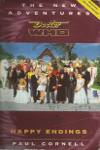 Published:
1996 Doctor Who Books
No. of Pages:
289
ISBN:
0 426 20470 0
The fiftieth New Adventure, this celebratory book ties up plot threads from the previous novels, features guest appearances from well-loved characters , and includes a chapter written by many of the series' favourite authors.
'DOCTOR, THIS IS MY FIANCE. PLEASE DON'T KILL HIM.'
You are cordially invited to the wedding of Mr Jason Kane and Professor Bernice S. Summerfield, to be held in the village of Cheldon Bonniface in the year 2010.
If everything works out, that is. Between rows, fights and pre-emptive divorce proceedings, there may not be a wedding at all. Especially if there really is someone who wants to prevent it from happening.
Everybody's coming: from Ice Warriors to UNIT veterans, a flirtatious Ace to a suspicious Hamlet Macbeth - and a very confused trio of Isley Brothers. The Doctor has to organize a buffet, Roz has a mystery to solve, and Chris has a girlfriend who used to be the Timewyrm.
GodEngine by Craig Hinton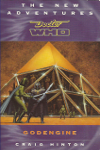 Published: 1996 Doctor Who Books
No. of Pages: 242
ISBN: 0 426 20473 5

'WE'RE ON MARS. WE'RE SURROUNDED BY ICE WARRIORS, AND THE TARDIS HAS BEEN DESTROYED. BUSINESS AS USUAL, I SUPPOSE.'
Stranded on Mars, the Doctor and Roz team up with a group of colonists on a journey to find the much-needed supplies at the North Pole. But when their expedition is joined by a party of Ice Warrior pilgrims, tensions are stretched to breaking point. Meanwhile, Chris finds himself on Pluto's moon, trapped with a group of desperate scientists in a deadly race against time.
The year is 2157: the Earth has been invaded, and forces are at work on Mars to ensure that the mysterious invaders are successful. Unless the Doctor can solve the riddle of the GodEngine, the entire course of human history will be changed.
Christmas On A Rational Planet by Lawrence Miles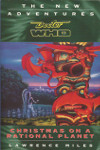 Published: 1996 Doctor Who Books
No. of Pages: 277
ISBN: 0 426 20476 X

'AN END TO HISTORY. AN END TO CERTAINTY. IS THAT TOO MUCH TO ASK?'
December, 1799; Europe is recovering from the Age of Reason, the Vatican is learning to live with Napoleon, and America is celebrating a new era of independence. But in New York State, something is spreading is own brand of madness through the streets. Secret societies are crawling from the woodwork, and there's a Satanic conspiracy around every corner.
Roz Forrester is stranded in a town where festive cheer and random violence go hand in hand. Chris Cwej is trapped on board the TARDIS with someone who's been trained to kill him. And when Reason itself breaks down, even the Doctor can't be sure who or what he's fighting for.
Christmas is coming to town, and the end of civilization is following close behind . . .
Return Of The Living Dad by Kate Orman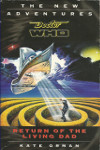 Published: 1996 Doctor Who Books
No. of Pages: 280
ISBN: 0 426 20482 4

'IT'S ME, DADDY. IT'S BERNICE.'
Bernice Summerfield was seven years old when her father disappeared. They said he turned and ran from the Daleks in battle. They said he was a coward.
They were wrong.
For years Benny has searched for her father. Now a clue snatches her from her honeymoon, back to the TARDIS, and on to England in the year 1983. There she at last discovers Admiral Isaac Summerfield, leading a motley crew of aliens, psychics and fanboys. Their mission: to save extra-terrestrials stranded on Earth.
But what is Benny's father doing five hundred years in his own past? And why has he been waiting for the Doctor to arrive? Can Benny really trust the man she's been looking for all her life?
The Death Of Art by Simon Bucher-Jones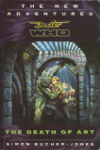 Published: 1996 Doctor Who Books
No. of Pages: 276
ISBN: 0 426 20481 6

HE DID NOT KNOW IF HIS POWERS COULD SAVE HIM UNTIL THE HORSES' HOOVES HAD CRUSHED HIS RIBS AND HIS HEART HAD STOPPED BEATING. AFTER THAT IT WAS OBVIOUS.
1880s France: the corrupt world of the Third Republic. A clandestine brotherhood is engaged in a desperate internal power struggle; a race of beings seeks to free itself from perpetual oppression; and a rip in time threatens an entire city. The future of Europe is at stake, in a war fought with minds and bodies altered to the limits of human evolution.
Chris finds himself working undercover with a suspicious French gendarme; Roz follows a psychic artist whose talents are attracting the attention of mysterious forces; and the Doctor befriends a shape-shifting member of a terrifying family. And, at the heart of it all, a dark and disturbing injustice is being perpetrated. Only an end to the secret war, and the salvation of an entire race, can prevent Paris from being utterly destroyed.
Damaged Goods by Russell T. Davies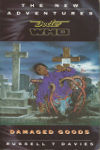 Published: 1996 Doctor Who Books
No. of Pages: 263
ISBN: 0 426 20483 2

'WHEREVER THIS COCAINE HAS TRAVELLED, IT HASN'T GONE ALONE. DEATH HAS BEEN ITS ATTENDANT. DEATH lN A REMARKABLY VIOLENT AND INTELLIGENT FORM.'
The Doctor, Chris and Roz arrive at the Quadrant, a troubled council block in Thatcher's Britain. There's a new drug on the streets, a drug that's killing to a plan. Somehow, the very ordinary people of the Quadrant are involved. And so, amidst the growing chaos, a bizarre trio moves into number 43.
The year is 1987: a dead drug dealer has risen from the grave, and an ancient weapon is concealed beneath human tragedy. But the Doctor soon discovers that the things people do for their children can be every bit as deadly as any alien menace - as he uncovers the link between a special child, an obsessive woman, and a desperate bargain made one dark Christmas Eve.
So Vile A Sin by Ben Aaronovitch and Kate Orman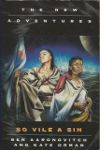 Published:
1997 Doctor Who Books
No. of Pages:
312
ISBN:
0 426 20484 0
Due to Aaronovitch's difficulty in completing the novel to the deadline (including a hard drive failure) Kate Orman stepped in to complete it. It was eventually published after the Dying Days.
'IF YOU STEP INTO HISTORY,' SAID THE DOCTOR, 'I WON'T BE ABLE TO PROTECT YOU.' 'THIS ISN'T HISTORY,' SAID ROZ. 'THIS IS FAMILY.'
The Earth Empire — the lmperium Humanum, upon which a thousand suns never set - is dying.
The Great Houses of the Empire manoeuvre and scheme for advantage; alliances are made; and knives flash in the shadows. Out among the moons of Jupiter, another battle is just beginning, as an ancient brotherhood seeks limitless power and long-overdue revenge.
The Doctor returns to the thirtieth century, searching for the source of a terrifying weapon. He fears a nightmare from his own past may be about to destroy the future. Nothing must be allowed to get in his way.
But the Doctor has reckoned without the power of history - which has its own plans for the wayward daughter of the House of Forrester.