Sylvester McCoy
Seventh Doctor
1987 - 1989
Virgin New Adventures

From 1991 until 1997 Doctor Who Books (part of Virgin Publishing Ltd.) produced a range of full length novels continuing the adventures of the seventh Doctor after the series was cancelled. The New Adventures were more broad and deeper than the television adventures, and showed a darker and more manipulative side to the seventh regeneration of the Doctor. The New Adventures featured Ace as the Doctor's companion, but she later left, and new companions joined. After the seventh Doctor regenerated there was one new adventure featuring the eighth Doctor in 1997.
If we fight like animals, we'll die like animals.
Love And War by Paul Cornell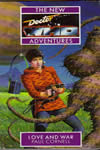 Published: 1992 Doctor Who Books
No. of Pages: 235
ISBN: 0 426 20385 2

On a planet called Heaven, all hell is breaking loose.
Heaven is a paradise for both humans and Draconians - a place of rest in more ways than one. The Doctor comes here on a trivial mission - to find a book, or so he says - and Ace, wandering alone in the city, becomes involved with a charismatic Traveller called Jan.
But the Doctor is strenuously opposed to the romance. What is he trying to prevent? Is he planning some more deadly game connected with the mysterious objects causing the military forces of Heaven such concern?
Archaeologist Bernice Summerfield thinks so. Her destiny is inextricably linked with that of the Doctor, but even she may not be able to save Ace from the Time Lord's plans.
This time, has the Doctor gone too far?
Transit by Ben Aaronovitch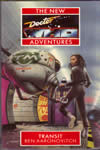 Published: 1992 Doctor Who Books
No. of Pages: 262
ISBN: 0 426 20384 4

'Oh no, not again...'
It's the ultimate in mass transit systems, a network of interstitial tunnels that bind the planets of the solar system together. Earth to Pluto in forty minutes with a supersave non-premium off-peak travelcard.
But something is living in the network, chewing its way to the very heart of the system and leaving a trail of death and mutation behind it.
Once again a reluctant Doctor is dragged into human history. Back down amongst the joyboys, freesurfers, chessfans, politicians and floozies, where friends are more dangerous than enemies and one man's human being is another's psychotic killing machine.
Once again the Doctor is all that stands between humanity and its own mistakes.
The Highest Science by Gareth Roberts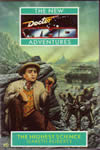 Published: 1993 Doctor Who Books
No. of Pages: 258
ISBN: 0 426 20377 1

Sakkrat.
Many legends speak of this world, home of an ancient empire destroyed by its own greatest achievement: the Highest Science, the pinnacle of technological discovery.
When the TARDIS alerts the Doctor and Bernice to the presence of an enormous temporal fluctuation on a large, green, unremarkable planet, they are not to know of any connection with the legend.
But the connection is there, and it will lead them into conflict with the monstrous Chelonians, with their contempt for human parasites; into adventure with a group of youngsters whose musical taste has suddenly become dangerously significant; and will force them to face Sheldukher, the most wanted criminal in the galaxy.
The Pit by Neil Penswick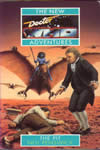 Published: 1993 Doctor Who Books
No. of Pages: 276
ISBN: 0 426 20378 X

For two weeks now it has been the same message again and again, and it's getting stronger; death and destruction, the end of all things, ARMAGEDDON.
In an attempt to lift the Doctor out of his irritable and erratic mood, Bernice suggests he investigates the mystery of the Seven Planets - an entire planetary system that disappeared without trace several decades before Bernice was born.
One of the Seven Planets is a nameless giant, quarantined against all intruders. But when the TARDIS materializes, it becomes clear that the planet has other visitors: a hit-squad of killer androids; a trespassing scientist and his wife; and two shape-changing criminals with their team of slaves.
As riot and anarchy spread on the system's colonised worlds, the Doctor is flung into another universe while Bernice closes in on the horror that is about to be unleashed - a horror that comes from a terrible secret in the Time Lords' past.
Deceit by Peter Darvill-Evans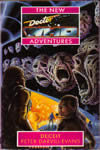 Published: 1993 Doctor Who Books
No. of Pages: 313
ISBN: 0 426 20387 9

'Take Arcadia apart if you have to'
The middle of the twenty-fifth century. The Dalek war is drawing to an untidy close. Earth's Office of External Operation is trying to extend its influence over the corporations that have controlled human-occupied space since man first ventured to the stars.
Agent Isabelle Defries is leading one expedition. Among her barely-controllable squad is an explosives expert who calls herself Ace. Their destination: Arcadia.
A non-technological paradise? A living laboratory for a centuries-long experiment? Fuel for a super-being? Even when Ace and Benny discover the truth, the Doctor refuses to listen to them.
Nothing is what it seems to be.
Lucifer Rising by Andy Lane And Jim Mortimore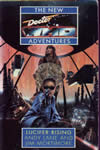 Published: 1993 Doctor Who Books
No. of Pages: 346
ISBN: 0 426 20388 7

'If I'd wanted to spend the rest of my life hoofing it around grimy spaceships for no good reason I'd have stayed in Spacefleet.'
Ace is bock. And she is not in a good mood.
Bernice has asked the Doctor to bring the TARDIS to the planet Lucifer, site of a scientific expedition. It's history to her: the exploration of alien artefacts on Lucifer came to an abrupt holt three centuries before she was born, and she's always wondered why.
Uncovering the answer involves the Doctor, Bernice and Ace in sabotage, murder, and the resurrection of eons-old alien powers.
Are there Angels on Lucifer? And what does it all have to do with Ace?
White Darkness by David A. McIntee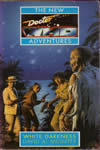 Published: 1993 Doctor Who Books
No. of Pages: 244
ISBN: 0 426 20395 X

'We believe that death should always be a part of life.'
The Doctor's last three visits to the scattered human colonies of the third millennium have not been entirely successful. And now that Ace has rejoined him and Bernice, life on board the TARDIS is getting pretty stressful. The Doctor yearns for a simpler time and place: Earth, the tropics, the early twentieth century.
The TARDIS lands in Haiti in the early years of the First World War. And the Doctor, Bernice and Ace land in a murderous plot involving voodoo, violent death, Zombies and German spies. And perhaps something else - something far, far worse.
Shadowmind by Christopher Bulis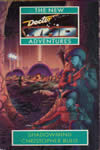 Published: 1993 Doctor Who Books
No. of Pages: 244
ISBN: 0 426 20394 1

Arden. A planet of hills and streams and forests. Peaceful. Friendly
There is no indigenous intelligent life there.' 'What is there then?' the Doctor said. 'It's a new colony world, Doctor. We started developing it three years ago.'
But there is something on Arden. Something that steals minds and memories. Something that is growing stronger. Something that can reach out to. the regional stellar capital, Tairngaire - where the newest exhibit in the sculpture park is a blue box surmounted by a flashing light.