One day, I shall come back. Yes, I shall come back. Until then there must be no regrets. No tears. No anxieties. Just go forward in all your beliefs, and prove to me that I am not mistaken in mine.
The Dr Who Annual 1966 Featuring the First Doctor, Amy Barker, Tony Barker and Butch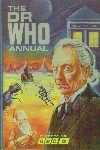 Published:
1965 World Distributors
Number of Pages:
93
Stories
Peril In Mechanistria
The Fish Men Of Kandalinga
The Lair Of Zabi Supremo
The Lost Ones
The Monsters From Earth
The Sons Of The Crab
Features
Journey Back To Earth
The Equations Of Dr Who
Who Is Dr Who?
The Dr Who Annual 1967 Featuring the First Doctor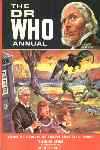 Published:
1967 World Distributors
Number of Pages:
93
Stories
Justice Of The Galacians
Ten Fathom Pirates
Terror On Tiro
The Cloud Exiles
The Devil-Birds Of Corbo
The Playthings Of Fo
The Sons Of Grekk