The Doctor: Come with me.
Grace: You come with me.
The Doctor: Me come with you?
Grace: Yes.
The Doctor: Me come with you? ... It's temtping.
The Eighth Doctor and Doctor Grace Holloway.
The Time Of The Daleks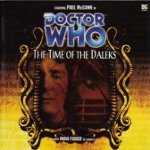 The Doctor has always admired the work of William Shakespeare. So he is a little surprised that Charley doesn't hold the galaxy's greatest playwright in the same esteem. In fact she's never heard of him.
Which the Doctor thinks is quite impossible.
General Mariah Learman, ruling Britain after the Eurowars, is one of Shakespeare's greatest admirers, and is convinced her time machine will enable her to see the plays' original performances.
Which the Doctor believes is extremely unlikely.
The Daleks just want to help. They want Learman to get her time machine working. They want Charley to appreciate the first ever performance of Julius Caesar They believe that Shakespeare is the greatest playwright ever to have existed and venerate his memory.
Which the Doctor knows is utterly impossible.
Regular Cast
Charley Pollard: India Fisher
Cast
The Orator / Rassilon: Don Warrington (1)
Dalek Voices: Nicholas Briggs, Clayton Hickman (2-4)
General Mariah Learman: Dot Smith
Viola: Nicola Boyce
Major Ferdinand: Julian Harries
Kitchen Boy: Jem Bassett
Priestly: Mark McDonnell
Hart: Lee Moone
Professor Osric: Ian Brooker (1-2,4)
Mark Anthony: Ian Potter (1)
Army Officer: Ian Potter (4)
Notes
CD 1: Parts One and Two
CD 2: Parts Three and Four
Running Time: 110 minutes