Correctomundo. A word I have never used and hopefully never will again.

Blu-Ray
In 2009 Doctor Who was produced in High Definition, and started to be released on Blu-Ray discs. As with DVDs these Doctor Who Blu-Ray discs also feature additional extra items and commentary (sometimes only in upscaled standard definition), and offering digital surround sound.
The Complete Specials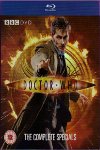 Published:
2010 BBC Worldwide Ltd.
Rating:
12
Runtime:
311 mins
BBCBD:
0059
Extras:
Doctor Who Confidentals
Deleted scenes
Doctor Who at Comic-Con
David Tennant's video diary
BBC Christmas Idents
Doctor Who at the Proms
Notes:
Contains 5 discs with The Next Doctor (upscaled), Planet Of The Dead, The Waters Of Mars, The End Of Time (parts 1 and 2)
The Next Doctor and associated Confidental have been upscaled from standard defintion. Some of the extras are standard definition; the other extras and main specials are high definition.