William Hartnell
First Doctor
1963 - 1966
Blu-Ray

In 2009 Doctor Who was produced in High Definition, and started to be released on Blu-Ray discs. As with DVDs these Doctor Who Blu-Ray discs also feature additional extra items and commentary (sometimes only in upscaled standard definition), and offering digital surround sound.
Tegan: And who might you be?
First Doctor: I might be any number of things, young lady. As it happens I am the Doctor. The original, you might say.
Doctor Who The Collection - Season 2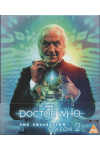 Released:
BBC Studios Ltd. 2022
Run time:
950 mins
BBCBD:
0479
Rating:
PG
CONTINUE YOUR DOCTOR WHO ARCHIVE WITH THE ULTIMATE COLLECTORS' SET! All nine stories, with picture and sound newly restored from the best available sources, plus hours of extra material.
Extras
IN CONVERSATION
BEHIND THE SOFA
FLIGHT THROUGH ETERNITY
COLLECTIBLES DOCUMENTARY
MISSING EPISODE RECONSTRUCTIONS
THE STORYTELLER
PDF WRITTEN ARCHIVE
EXCLUSIVE BOOKLET