Tom Baker
Fourth Doctor
1974 - 1981
BBC Past Doctor Adventures

From 1997 until 2005 BBC Books produced a range of full length novels termed the Past Doctor Adventures. These were adventures set between television adventures featuring past Doctors and companions.
Something's interfering with time, Mr Scarman. And time is my business.

Wolfsbane by Jacqueline Rayner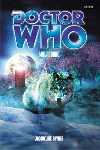 Published: 2003 BBC Books
No. of Pages: 245
ISBN: 0 563 48609 0

Harry Sullivan. Died 28 November 1936. 'Deliver us from Evil.'
Harry is dead. Having left him abandoned and alone in pre-war Britain, the Doctor and Sarah try to solve the mystery of his death. But the only witness is in a lunatic asylum, driven mad by what he has seen. He tells of murder and mutilation, of living trees and long-dead legends, of wolfmen and war ... And of a mysterious stranger known only as he Doctor.
Can it be true that Harry discovered the last resting place of the Hold Grail? Why are the flowers and trees in a Somerset village in full bloom at Christmas? And is it just a coincidence that Harry died under a full moon ... ?
Millennium Shock by Justin Richards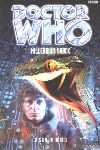 Published: 1999 BBC Books
No. of Pages: 283
ISBN: 0 563 55586 6

It's 1999 and the Millennium Bug is threatening to bring the world's computers to a standstill. Experts struggle to avert disaster, but a powerful force seems determined to work against them.
As the government realises the full implication of Year 2000, one company seems to promise all the technological answers... but what exactly are the methods and motives behind the operation?
What is the connection between the Millennium Bug, a raid on a Russian nuclear base, a break-on at a British defence contractor, and a pen that Sarah Jane Smith kept as a memento of a past adventure? The Doctor and Commander Harry Sullivan of MI5 must discover the truth before the world is plunged into a digital winter.
No longer just an expensive miscalculation, the Millennium Bug could also be the key to an alien take-over of Earth...
Last Man Running by Chris Boucher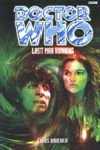 Published: 1998 BBC Books
No. of Pages: 251
ISBN: 0 563 40594 5

Eager for solitude away from the TARDIS and the endlessly inquisitive Leela, the Doctor steps out on to a benign-looking planet. But the apparent tranquillity hides a terrifying secret...
The TARDIS has arrived on a world of violence, where hideous creatures hunt and kill endlessly, vying for supremacy at the top of the food chain. But is evolution on the planet natural or engineered by some higher power? And why has an aggressively suspicious alien police force sent a secret mission here?
With no one safe from the planet's tireless predators, Leela's warrior instincts are tested to the full. The Doctor, meanwhile, begins to suspect that there is a scientific purpose to the planet - one married to a sinister intelligence.
Whatever the data being collated from the planet, the Doctor soon realises its usage may have far-reaching consequences for all humanity...
Corpse Marker by Chris Boucher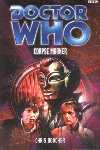 Published: 1999 BBC Books
No. of Pages: 282
ISBN: 0 563 55575 0

Long ago, and far away, the Doctor and Leela faced the Robots of Death...
To a society dependant on robots, the news that these benign, tireless, obedient labourers could be turned into killers would cause panic. So it was kept a secret. In Kaldor City, only the three survivors of the Sandminer massacre know the truth. But now, several years later, they are beginning to show signs of mental breakdown. And once again, the robots are being programmed to kill. Can the dead genius Taren Capel possibly be involved in this new outrage?
Worst of all, this time the deadly robots are not confined to a Sandminer. This time they are loose in Kaldor City. And this time, unless the Doctor and Leela can stop them, they really will destroy the world...
Eye Of Heaven by Jim Mortimore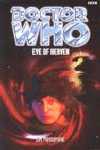 Published: 1998 BBC Books
No. of Pages: 274
ISBN: 0 563 40567 8

Easter Island, 1842. Horace Stockwood, eminent archaeologist, has stolen a stone tablet sacred to the islanders. He escapes into the open sea, but massive, sinister store figures are lining the cliff tops, watching him go...
Thirty years later, Stockwood is desperate to return. He has devoted his life to studying the sacred stone, and needs to know if his theories are correct. Visiting Earth with Leela, the Doctor's interest is piqued, and he offers to fund Stockwood's expedition. But their journey proves more hazardous that anyone would have expected.
What is the terrible secret that pushed Stockwood on - and what is his real agenda? Who is trying to stop their mission before it has even begun? As the Doctor begins to piece the answers together, it seems he may become an unwitting accomplice to the terrible tragedy that threatens to befall the island. Ancient powers are involved, and dangerous secrets may soon be secret no longer...
Psi-ence Fiction by Chris Boucher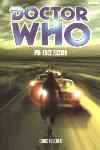 Published: 2001 BBC Books
No. of Pages: 283
ISBN: 0 563 53814 7

It's Reading Week at the University of East Wessex, but not everything comes to a stop.
The wood is still haunted. Experiments in telepathy, remote viewing, precognition and other paranormal phenomena continue in the Parapsychology Department. The department heads still think the Kellerfield Research Fellow is out for publicity rather than psychic results. A grizzly murder remains unsolved by local police. The students are still holding seances in the graveyard.
When the TARDIS arrives in Norswood, the Doctor and Leela are caught up in the events that are spiralling out of control. Leela is chased by a phantom, and the Doctor takes the waters. But soon it isn't just the Parapsychology Department's funding that's in question - it's the whole of existence.
Drift by Simon A. Forward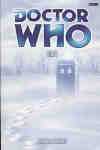 Published: 2002 BBC Books
No. of Pages: 283
ISBN: 0 563 53843 0

White: the perfect camouflage for ghosts.
White consumes the New Hampshire landscape, and troops move in on a survivalist cult following a spate of unnaturally severe blizzards. The Special Forces group, White Shadow, is searching for the missing fragments of a US Air Force jet, crashed while engaged in top-secret test flights over the region.
The Doctor and Leela have arrived at quite literally the wrong time. Thanksgiving is approaching - traditionally a holiday all about home and family. But this year, all that is lost.
Lost: like the local community, in the grip of something far more sinister than a harsh winter. Like young Amber Malloux, victim of a broken home that won't even settle in one place. Even White Shadow is lost, out of its depth and up against an enemy not even the Doctor can find in this world of white.
An enemy that promises the bleakest of midwinters for the people of New Hampshire, and before springtime, the end of life on Earth...
Match Of The Day by Chris Boucher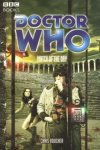 Published: 2005 BBC Books
No. of Pages: 277
ISBN: 0 563 48618 X

There were contracts, the agents, the local sponsors, the broadcasts, the laws which made murder legal...
It had taken a long time to establish, and even longer to develop the league of superstar duellists. And just when it was all working so well, someone or something started interfering. Famous fighters died in private duels. Up-and-coming professionals fell to casual, one-time challengers.
When Leela is challenged to a duel to the death, the Doctor realises that there is more to the situation than simple murder and mayhem. But before he can sort it out, he needs to save his new client - Leela. How long can she survive on a planet where not to kill is an offence punishable by death?
The Drosten's Curse by A. L. Kennedy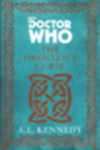 Published:
2015 BBC Books
No. of Pages:
361
ISBN:
978 1 84990 826 9
Available from:
"Isn't life terrible? Isn't it all going to end in tears? Won't it be good to just give up and let something else run my mind, my life?"
Something distinctly odd is going on in Arbroath. It could be to do with golfers being dragged down into the bunkers at the Fetch Brothers' Golf Spa Hotel, never to be seen again. It might be related to the strange twin grandchildren of the equally strange Mrs Fetch - owner of the hotel and fascinated with octopuses. It could be the fact that people in the surrounding area suddenly know what others are thinking, without anyone saying a word.
Whatever it is, the Doctor is most at home when faced with the distinctly odd. With the help of Fetch Brothers' Junior Receptionist Bryony, he'll get to the bottom of things. ]ust so long as he does so in time to save Bryony from quite literally losing her mind, and the entire world from destruction.
Because something huge, ancient and alien lies hidden beneath the ground - and it's starting to wake up...
Tomb Of Valdemar by Simon Messingham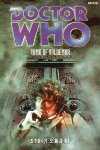 Published: 2000 BBC Books
No. of Pages: 278
ISBN: 0 563 55591 2

Millennia ago, the great god Valdemar held sway over the universe. Somehow the Old Ones defeated this dark presence and entombed him beneath the acid skies of Ashkellia, before disappearing themselves forever.
Over the centuries, the myths of Valdemar grow, crossing solar systems and races. A novelist, Miranda Pelham, pieces together the Dark God's story. Unfortunately for her, revolution and the rise of a New Protectorate force her to strike an agreement with the decadent necromancer Paul Neville to find the lost Ashkellia.
The Doctor and Romana, despite their best efforts, become embroiled in the complex conspiracies and attempts to re-discover Valdemar. High in the boiling sulphuric acid clouds, in the Palace of the Old Ones, a place where reality and dreams collide, the way is being prepared for the resurrection of the Dark One.
The Doctor faces an agonising choice: should he continue with his quest to gather the segments of the Key to Time, or prevent the rebirth of a being so powerful that its release will alter the entire fabric of the universe?
Heart Of TARDIS by Dave Stone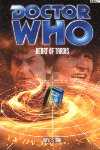 Published: 2000 BBC Books
No. of Pages: 280
ISBN: 0 563 55596 3

In the American Midwestern town of Lychberg something is afoot. Its citizens are being killed in inexpressibly horrible and brutal ways and the police don't have a clue who's responsible. The only suspects are a mysterious and a sinister stranger, who calls himself the Doctor, and his young companions - Jamie and Victoria.
The Fourth Doctor and Romana, meanwhile, have been summoned by the Gallifreyan High Council. A force has been unleashed into the space/time continuum... a force so unimaginably terrible that it is set to rip the universe itself apart and plunge it into primal, screaming chaos from which nothing will survive.
Of course, since something of this nature happens every other day of the week, the Doctor's really far more interested in finding out what's happened to a close personal friend, who seems to have vanished under mysterious circumstances. And quite right, too. The fate of a universe plunging into fetid and undending chaos can look out for itself for a change...
Festival Of Death by Jonathan Morris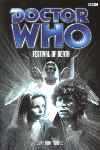 Published: 2000 BBC Books
No. of Pages: 280
ISBN: 0 563 53803 1

The Beautiful Death. The ultimate theme-park ride. For twenty galactic credits, you can find out what it's like to be dead.
But something has gone wrong. Visitors expecting a sightseeing tour of the afterlife have been transformed into mindless zombies, set on a killing rampage.
The TARDIS arrives in the aftermath of the disaster and, to the Doctor's baffled delight, he is immediately congratulated for saving the population from certain and terrible destruction.
The only problem is he hasn't actually done it yet.
Aided and abetted by a drug-addled hippie lizard, a hard-hitting investigative reporter and a suicidal ship's computer, the Doctor has no choice but to travel back in time and discover exactly how he became a hero.
And then he finds out. He did it by sacrificing his life.
Asylum by Peter Darvill-Evans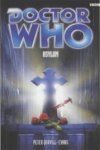 Published: 2001 BBC Books
No. of Pages: 226
ISBN: 0 563 53833 3

'My view' the Doctor said 'is that you can run - in fact it's often by far the best option - but you can't hide. I'll see my self out.' Nyssa felt a pang of disappointment. He had gone. She would probably never see him again.
The town of Oxford in AD 1278 seems a haven of tranquillity. Under the summer sun, merchants, students and clerics go about their daily, unhurried tasks. Alfric, the proctor of the Franciscan friary, has only two minor problems: one of the friars has gone missing, and there's a travelling showman, calling himself the Doctor, with a pretty young noblewoman by his side, attracting crowds in the narrow streets.
When the missing friar is found dead, the Doctor is convinced he has been murdered. There is a ruthless killer at large, and Alfric reluctantly teams up with the Doctor to track him down.
Their investigation leads towards the most celebrated of the Franciscan brotherhood: Roger Bacon, famed throughout Christendom as a scholar - and, in the far future, the subject of a revolutionary thesis by technographer Nyssa of Traken.