Peter Davison
Fifth Doctor
1982 - 1984
Blu-Ray

In 2009 Doctor Who was produced in High Definition, and started to be released on Blu-Ray discs. As with DVDs these Doctor Who Blu-Ray discs also feature additional extra items and commentary (sometimes only in upscaled standard definition), and offering digital surround sound.
Doctor Who The Collection - Season 19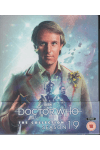 Released:
BBC Studios Ltd. 2018
Run time:
640 mins
BBCBD:
0446
Rating:
12
BUILD YOUR OWN DOCTOR WHO ARCHIVE WITH THE ULTIMATE COLLECTORS' SET! The Fifth Doctor's classic first season — all 26 episodes newly restored For Blu-Ray, packed with bonus material.
Available from:
Extras
PETER DAVISON IN CONVERSATION
FIVE NEW MAKING-OF DOCUMENTARIES
BEHIND THE SOFA
IMMERSIVE 5.1 SURROUND SOUND MIXES For Kinda and Earthshock
EXCLUSIVE EXTENDED EPISODE Black Orchid Part One
EXTENSIVE STUDIO RECORDING TAPES
OPTIONAL UPDATED SPECIAL EFFECTS FOR CASTROVALVA
PRODUCTION ARCHIVE MATERIAL