Blu-Ray
In 2009 Doctor Who was produced in High Definition, and started to be released on Blu-Ray discs. As with DVDs these Doctor Who Blu-Ray discs also feature additional extra items and commentary (sometimes only in upscaled standard definition), and offering digital surround sound.
Dr. Who & The Daleks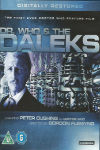 Published:
2013 Studio Canal Limited
Rating:
U
Runtime:
83 mins
BBCBD:
OPTBD:2529
Extras:
Audio commentary with Jennie Linden & Roberta Tovey
Dalekmania
Restoring Dr. Who & The Daleks
Interview with author Gareth Owen
Stills Gallery
Trailer
Available from:
Daleks' Invasion Earth 2150 A.D.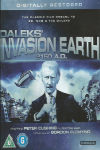 Published:
2013 Studio Canal Limited
Rating:
U
Runtime:
84 mins
BBCBD:
OPTBD:2530
Extras:
Restoring Daleks' Invasion Earth 2150 A.D.
Interview with actor Bernard Cribbins
Interview with author Gareth Owen
Stills Gallery
Trailer
Available from: