The Doctor: Come with me.
Grace: You come with me.
The Doctor: Me come with you?
Grace: Yes.
The Doctor: Me come with you? ... It's temtping.
The Eighth Doctor and Doctor Grace Holloway.

DVD
In 2001 the BBC started to release Doctor Who adventures on DVD along with additional extra features and commentary. The DVDs offer digitally remastered picture and sound quality, and in some cases the soundtrack has been enhanced to 5.1 surround sound, and special effects have been enhanced wth the use of CGI.
The Movie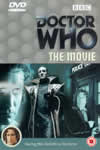 Published:
2001 BBC Worldwide Ltd.
Rating:
12
Runtime:
85 mins
BBCDVD:
1043
Extras:
Commentary by Geoffrey Sax
On screen production notes
Music feature
Exclusive footage
Cast and crew interviews
Photo gallery
Notes:
Easter Egg on the region 2 DVD: On the menu move to the first item and press left. The Doctor Who logo will turn red. Select the logo to view the dedication to Jon Pertwee that was shown on the UK transmission.
Features extra scenes that were deleted in the UK transmission and VHS video release
Available from: