Paul McGann
Eighth Doctor
1996
Blu-Ray

In 2009 Doctor Who was produced in High Definition, and started to be released on Blu-Ray discs. As with DVDs these Doctor Who Blu-Ray discs also feature additional extra items and commentary (sometimes only in upscaled standard definition), and offering digital surround sound.
50th Anniversary Collector's Edition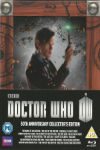 Released:
2014 BBC Worldwide Ltd.
Runtime:
266 mins
BBCBD:
0271
Rating:
PG
Available from:
Extras:
The Name Of The Doctor
Behind The Scenes
The Night Of The Doctor
Doctor Who: The Ultimate Guide
The Day Of The Doctor
Behind The Lens
The Last Day
Script to Screen
Cinema Intros: Strax & The Doctor
50th Trails
Tales From The TARDS
The Time Of The Doctor
Behind the Lens: Deleted Scenes
Delete Scene
A Night With The Stars: The Science Of Doctor Who
Farewell To Matt Smith
An Adventuere In Time And Space
William Hartnell: The Original
Behind The Scenes
The Making Of An Adventure
Reconstructions
Title Sequences
Deleted Scenes
The Five(ish) Doctors Reboot
Doctor Who At The Proms 2013