Matt Smith
Eleventh Doctor
2010 - 2013
BBC Eleventh Doctor Adventures

From 2005 BBC Books has produced a range of full length novels featuring the Ninth, Tenth, Eleventh, Twelfth, and Thirteenth, Doctors, along with their companions, taking them to new adventures and planets that take place in-between the television adventures.
The Doctor: Imagine that. Human souls trapped like flies in the world wide web. Stuck forever, crying out for help.
Clara: Isn't that basically Twitter?
Apollo 23 by Justin Richards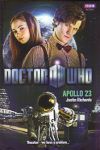 Published: 2010 BBC Books
No. of Pages: 248
ISBN: 978-1-846-072-000

'FOR A FEW MOMENTS THIS AFTERNOON, IT RAINED ON THE MOON.'
An astronaut in full spacesuit appears out of thin air in a busy shopping centre. Maybe it's a publicity stunt.
A photo shows a well-dressed woman in a red coat lying dead at the edge of a crater on the dark side of the moon - beside her beloved dog 'Poochie'. Maybe it's a hoax.
But as the Doctor and Amy find out, these are just minor events in a sinister plan to take over every human being on earth. The plot centres on a secret military base on the moon - that's where Amy and the TARDIS are.
The Doctor is back on Earth, and without the TARDIS there's no way he can get to the moon to save Amy and defeat the aliens.
Or is there'! The Doctor discovers one last great secret that could save humanity: Apollo 23.
Night Of The Humans by David Llewellyn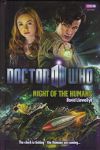 Published: 2010 BBC Books
No. of Pages: 246
ISBN: 978-1-846-07969-6

'THIS IS THE GYRE - THE MOST HOSTILE ENVIRONMENT IN THE GALAXY.'
250,000 years' worth of junk floating in deep space, home to the shipwrecked Sittuun, the carnivorous Sollogs, and worst of all - the Humans.
The Doctor and Amy arrive on this terrifying world in the middle of an all-out frontier war between Sittuun and Humans, and the countdown has already started. There's a comet in the sky, and it's on a collision course with the Gyre...
When the Doctor is kidnapped, it's up to Amy and 'galaxy-famous swashbuckler' Dirk Slipstream to save the day.
But who is Slipstream, exactly? And what is he really doing here?
The Forgotten Army by Brian Minchin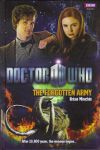 Published: 2010 BBC Books
No. of Pages: 248
ISBN: 978-1-846-07987-0

'LET ME TELL YOU A STORY. LONG AGO, IN THE FROZEN ARCTIC WASTES, AN ALIEN ARMY LANDED. ONLY NOW, THOUSANDS OF YEARS LATER, IT lSN'T A STORY. AND THE ARMY IS READY TO ATTACK.'
New York - one of the greatest cities on 21st-century Earth... But what's going on in the Museum? And is that really a Woolly Mammoth rampaging down Broadway?
An ordinary day becomes a time of terror, as the Doctor and Amy meet a new and deadly enemy. The vicious Army of the Vykoid are armed to the teeth and determined to enslave the human race. Even though they're only seven centimetres high.
With the Vykoid army swarming across Manhattan and sealing it from the world with a powerful alien force field, Amy has just 24 hours to find the Doctor and save the city. If she doesn't, the people of Manhattan will be taken to work in the doomed asteroid mines of the Vykoid home planet.
But as time starts to run out, who can she trust? And how far will she have to go to free New York from the Forgotten Army?
Nuclear Time by Oli Smith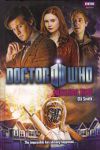 Published: 2010 BBC Books
No. of Pages: 243
ISBN: 978-1-846-07989-4

'MY WATCH IS RUNNING BACKWARDS.'
Colorado, 1981. The Doctor, Amy and Rory arrive in Appletown - an idyllic village in the remote American desert where the townsfolk go peacefully about their suburban routines. But when two more strangers arrive, things begin to change.
The first is a mad scientist - whose warnings are cut short by an untimely and brutal death. The second is the Doctor...
As death falls from the sky the Doctor is trapped. The TARDIS is damaged, and the Doctor finds he is living backwards through time. With Amy and Rory being hunted through the suburban streets of the Doctor's own future and getting farther away with every passing second, he must unravel the secrets of Appletown before time runs out...
The King's Dragon by Una McCormack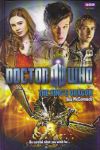 Published: 2010 BBC Books
No. of Pages: 244
ISBN: 978-1-846-07990-0

'THEY CALLED IT ENAMOUR. IT TURNED MINDS, SOLD MERCHANDISE, AND SWAYED ELECTIONS. AND IT DID ITS JOB FAR TOO WELL...'
In the city-state of Geath, the King lives in a golden hall, and the people want for nothing. Everyone is happy and everyone is rich. Or so it seems.
When the Doctor, Amy and Rory look beneath the surlace, they discover a city ot secrets. In dark corners, strange creatures are stirring. At the heart of the hall, a great metal dragon oozes gold. The the Herald appears, demanding the retum of her treasure... And next come the gunships.
The battle for possession of the treasure has begun, and only the Doctor and his friends can save the people of the city from being destroyed in the crossfire of an ancient civil war. But will the King surrender his new-round wealth!? Or will he fight to keep it...?
The Glamour Chase by Gary Russell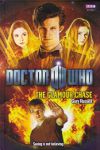 Published: 2010 BBC Books
No. of Pages: 243
ISBN: 978-1-846-07988-7

'WHY ARE YDU HERE? I MEAN - WHO ARE YOU, EXACTLY?'
An archaeological dig in 1936 unearths relics of another time... And - as the Doctor, Amy and Rory realise - another place. Another planet.
But if Enola Porter, noted adventuress, has really found evidence of an alien civilization, how come she isn't famous? Why has Rory never heard of her? Added to that, since Amy's been travelling with him for a while now, why does she now think the Doctor is from Mars?
As the ancient spaceship reactivates, the Doctor discovers that nothing and no one can be trusted. The things that seem most real could actually be literal fabrications - and very deadly indeed.
Who can the Doctor believe when no one is what they seem? And how can he defeat an enemy who can bend matter itself to their will? For the Doctor, Amy and Rory - and all of humanity - the buried secrets of the past are very much a threat to the present...
The Coming Of The Terraphiles by Michael Moorcock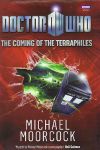 Published: 2010 BBC Books
No. of Pages: 343
ISBN: 978-1-846-07983-2

'THERE ARE DARK TIDES RUNNING THROUGH THE UNIVERSE...'
Miggea — a star on the very edge of reality. The cusp between this universe and the next. A point where space-time has worn thin, and is in danger of collapsing... And the venue for the grand finals of the competition to win the fabled Arrow of Law.
The Doctor and Amy have joined the Terraphiles - a group obsessed with all aspects of Earth's history, and dedicated to re-enacting ancient sporting events. They are determined to win the Arrow.
But just getting to Miggea proves tricky. Reality is collapsing, ships are disappearing, and Captain Cornelius and his pirates are looking for easy pickings.
Even when they arrive, the Doctor and Amy's troubles won't be over. They have to find out who is so desperate to get the Arrow of Law that they will kill for it. And uncover the traitor on their own team. And win the contest fair and square.
And, of course, they need to save the universe from total destruction.
Dead Of Winter by James Goss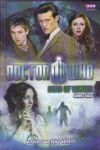 Published: 2011 BBC Books
No. of Pages: 255
ISBN: 978-1-849-90238-0

'THE DEAD ARE NOT ALONE. THERE IS SOMETHING IN THE MIST AND IT TALKS TO THEM.'
In a remote clinic in 18th-century Italy, a lonely girl writes to her mother. She tells of pale English artistrocrats and mysterious Russion nobles. She tells of intrigues and secrets, and strange faceless figures that rise from the sea. And she tells about the enigmatic Mrs Pond, who arrives with her husband and their physician.
What she doesn't tell her mother is the truth that everyone knows and no one says - that the only people who come here do so to die.
The Way Through The Woods by Una McCormack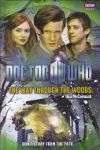 Published: 2011 BBC Books
No. of Pages: 240
ISBN: 978-1-849-90237-3

'AS LONG AS PEOPLE HAVE LIVED HERE, THEY'VE GONE OUT OF THEIR WAY TO AVOID THE WOODS...'
Two teenage girls disappear into an ancient wood, a foreboding and malevolent prescence both now and in the past. The modern motorway bends to avoid it, as did the old Roman road. In 1917 the Doctor and Amy are desperate to find out what's happened to Rory, who's vanished too.
But something is waiting for them in the woods. Something that's been there for thousands of years. Something that is now waking up.
Hunter's Moon by Paul Finch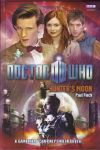 Published: 2011 BBC Books
No. of Pages: 256
ISBN: 978-1-849-90236-6

'THERE'S NO END TO THE HORROR IN THIS PLACE - IT'S LIKE HELL, AND THERE ARE DEVILS ROUND EVERY CORNER.'
On Leisure Platform 9 gamblers and villains mix with socialites and celebrities. It's a place where you won't want to win the wrong game.
With Rory kidnapped by a brutal crime lord, the Doctor and Amy infiltrate a deadly contest where fugitives become the hunted. But how long before they realise the Doctor isn't a vicious mercenary and discover what Amy is up to? It's a game that can only end in death, and time for everyone is running out.
Touched By An Angel by Jonathan Morris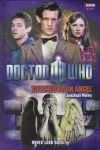 Published: 2011 BBC Books
No. of Pages: 237
ISBN: 978-1-849-90234-2

'THE PAST IS LIKE A FOERIGN COUNTRY. NICE TO VISIT, BUT YOU REALLY WOULDN'T WANT TO LIVE THERE.'
In 2003, Rebecca Whitaker died in a road accident. Her husband Mark is still grieving. He receives a battered envelope, posted eight years ago, containing a set of instructions with a simple message: "You can save her."
As Mark is given the chance to save Rebecca, it's up to the Doctor, Amy and Rory to save the whole world. Because this time the Weeping Angels are using history itself as a weapon.
Paradise Lost by George Mann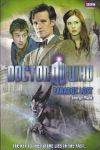 Published: 2011 BBC Books
No. of Pages: 238
ISBN: 978-1-849-90235-9

'THE SQUALL FEED ON PSHYCHIC ENERGY. THEY SPREAD LIKE A PLAGUE. AND IF THEY ARE NOT STOPPED THEY WILL STRIP THE EARTH CLEAN.'
London, 1910: an unsuspecting theif finds himself confronted by grey-skinned creatures that are waiting to devour his mind. London 2789: the remains of an ancient android are dredged from the Thames. When reactivated it has a warning that can only be delivered to a man named 'the Doctor'.
The Doctor and his friends must solve a mystery that has spanned over a thousand years. If they fail, the deadly Squall will devour the world.
Borrowed Time by Naomi A. Alderman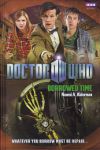 Published: 2011 BBC Books
No. of Pages: 255
ISBN: 978-1-849-90233-5

'YOU WANT MORE TIME, OF COURSE YOU DO. WE ALL WANT MORE TIME. LET ME MAKE YOU AN OFFER...'
Andrew Brown never has enough time. No time to call his sister, or to prepare for that important presentation at the bank where he works. The train's late, the lift jams. If only he'd had just a little more time. And time is the business of Mr Symington and Mr Blenkinsop. They'll lend him some - at a very reasonable rate of interest.
Detecting a problem, the Doctor, Amy and Rory do undercover at the bank. But they have to move fast to stop Symington and Blenkinsop before they cash in their investments.
The Silent Stars Go By by Dan Abnett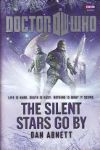 Published: 2011 BBC Books
No. of Pages: 299
ISBN: 978-1-849-90243-4

'Things have to get worse before they get better. Trouble is, I think they're about to get a lot worse. As worse as can be. And then some.'
For centuries the Morphans have worked. With no help from other worlds, they subsist on the food they can grow and that's little enough. But their purpose, their whole life is to maintain the machines that will one day make their world as habitable as old Earth.
Life used to be hard. Now as their crops fail, livestock sickens, and the temperature drops, it's becoming impossible. This year's winter festival won't be the usual celebration. It's not a time for optimism or hope - and it's noyt a time to welcome unexpected guest. The Doctor, Amy and Rory find a society breaking apart under the strain. Tensions are mounting, old rivalries are coming to the fore, people are dying...
And the Doctor's old enemies the Ice Warriors make their move. With the cold-hearted threat of invasion, the real battle for survival begins. Or does it? The Doctor begins to suspect that behind everything lies a deadlier, and even more chilling danger...
Magic Of The Angels by Jaqueline Rayner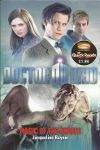 Published:
2012 BBC Books
No. of Pages:
110
ISBN:
978-1-849-90286-1
Part of the Quick Reads range - short stories designed to be easily read.
'No one from this time will ever see that girl again...'
The Doctor, Amy and Rory round off a sight-seeing tour round London with a trip on the theatre. That's when things start to go wrong.
The Doctor wanders why so many young girls are going missing from the area. When he sees Sammy Star's amazing magic act, he thinks he knows the answer. Sammy's glamorous assistant disappears at the climax of the act- but this is no stage trick.
The Doctor and his friends team up with residents at an old people's home to discover the truth. And together they find themselves face to face with a deadly Weeping Angel.
Whatever you do — don't blink!
Dark Horizons by J. T. Colgan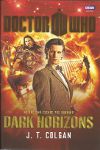 Published: 2012 BBC Books
No. of Pages: 307
ISBN: 978-1-849-90456-8

'Now, you may or may not have noticed, but we appear to be on fire...'
On a windswept Northern shore ,at the very tip of what will one day become Scotland, the islanders believe the worst the have to fear is a Viking attack.
Then the burning comes. They cannot run from it. Water will not stop it. It consumes everything in its path - yet the burned still speak.
The Doctor is just looking for a game on the famous Lewis chess set. Instead he encounters a people under attack from a power they cannot possibly understand. They have no weapons, no strategy and no protection against a fire sent to engulf them all.
Add in some marauding Vikings with very bad timing, a kidnapped princess with a secret of her own and a TARDIS that seems to have developed an inexplicable fear of water, and they all have a battle on their hands.
The islanders must take on a ruthless alien force in a world without technology; without communications; without tea that isn't made from bark. Still at least they have the Doctor on their side... Don't they?
The Silurian Gift by Mike Tucker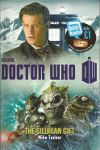 Published:
2013 BBC Books
No. of Pages:
99
ISBN:
978-1-849-90558-9
Part of the Quick Reads range - short stories designed to be easily read.
'My new Fire-Ice will solve all the problems of the planet!'
The world is on the brink of crisis. As fuel runs short, society begins to break down. One man seems to have the answer. But is it too good to be true?
The Doctor arrives at an old oil refinery near the South Pole, concerned by claims about this new form of energy. He soon discovers something huge and terrifying is stalking the refinery. It brings death and destruction in its wake.
The battle has begun for planet Earth.
Plague Of The Cybermen by Justin Richards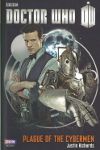 Published: 2013 BBC Books
No. of Pages: 254
ISBN: 978-1-849-90574-9

'THEY LIKE THE SHADOWS. YOU KNOW THEM AS PLAGUE WARRIORS...'
When the Doctor arrives in the 19th-century village of Klimtenburg, he discovers the residents suffering from some kind of plague - a 'wasting disease'. The victims face a horrible death — but what's worse, the dead seem to be leaving their graves. The Plague Warriors have returned...
The Doctor is confident he knows what's really happening; he understands where the dead go, and he's sure the Plague Warriors are just a myth. But as some of the Doctor's oldest and most terrible enemies start to awaken he realises that maybe - just maybe - he's misjudged the situation.
The Dalek Generation by Nicholas Briggs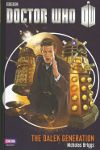 Published: 2013 BBC Books
No. of Pages: 253
ISBN: 978-1-849-90575-6

'THE SUNLIGHT WORLDS OFFER YOU A LIFE OF COMFORT AND PLENTY. APPLY NOW AT THE DALEK FOUNDATION.'
Sunlight 349 is one of countless Dalek Foundation worlds, planets created to house billions suffering from economic hardship. The Doctor arrives at Sunlight 349, suspicious of any world where the Daleks are apparently a force for good - and determined to find out the truth.The Doctor knows they have a far more sinister plan — but how can he convince those who have lived under the benevolence of the Daleks for a generation?
But convince them he must, and soon. For on another Foundation planet, archaeologists have unearthed the most dangerous technology in the universe...
Shroud Of Sorrow by Tommy Donbavand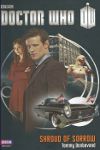 Published:
2013 BBC Books
No. of Pages:
253
ISBN:
978-1-849-9076-3
Available from:
23 NOVEMBER, 1963
It is the day after John F. Kennedy's assassination and the faces of the dead are everywhere. PC Reg Cranfield sees his late father in the mists along Totter's Lane. Reporter Mae Callon sees her grandmother in a coffee stain on her desk. FBI Special Agent Warren Skeet finds his long-dead partner staring back at him from raindrops on a window pane.
The faces begin to talk and scream and push through into our world as the alien Shroud begins to feast on the grief of a world in mourning. Can the Doctor dig deep enough into his own sorrow to save mankind?
Tales Of Trenzalore by Justin Richards, George Mann, Paul Finch and Mark Morris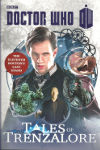 Published:
2014 BBC Books
No. of Pages:
218
ISBN:
978 1 849 90844 3
Tales of Trenzalore collects four of the Doctor's adventures from different periods during the Siege of Trenzalore and the ensuing battle:
Let It Snow by Justin Richards
An Apple A Day by George Mann
Strangers In The Outland by Paul Finch
The Dreaming by Mark Morris
Available from:
'HERE FOR CENTURIES AND NOT A MOMENT'S PEACE AND QUIET...'
As it had been foretold, the armies of the Universe gathered at Trenzalore. Only one thing stood between the planet and destruction - the Doctor. For nine hundred years, he defended the planet, and the tiny town of Christmas, against the forces that would destroy it.
Some of what happened during those terrible years is well documented. But most of it has remained shrouded in mystery and darkness. Until now.
This is a glimpse of just some of the terrors the people faced, the monstrous threats the Doctor defeated. These are the tales of the monsters who found themselves afraid - and of the one man who was not.