Jon Pertwee
Third Doctor
1970 - 1974
Quote from
I've reversed the polarity of the neutron flow, so the TARDIS should be free of the force field now.
Blu-Ray

In 2009 Doctor Who was produced in High Definition, and started to be released on Blu-Ray discs. As with DVDs these Doctor Who Blu-Ray discs also feature additional extra items and commentary (sometimes only in upscaled standard definition), and offering digital surround sound.
Spearhead From Space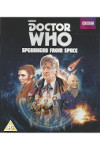 Released:
2013 BBC Worldwide Ltd.
Runtime:
96 mins
BBCBD:
0230
Rating:
PG
Available from:
The certification has been raised to PG due to the extras getting a higher certification than the episodes
Extras:
A Dandy and a Clown
Carry On: The Life of Caroline John
Title Sequence Material
Restoration Comparison
Programme Subtitles
Digitally Remastered Picture and Sound Quality