Jodie Whittaker
Thirteenth Doctor
2017 - 2022
Annuals
From 1965 in most years there has been an annual, or yearbook, produced featuring the Doctor of the time and containing behind the scenes facts, puzzles, and stories.
Doctor: Why are you calling me madam?
Yaz: Because you're a woman.
Doctor: Am I? Does it suit me?
Yaz: What?
Doctor: Oh, yeah! I remember. Sorry, half an hour ago I was a white-haired Scotsman.
Doctor Who The Official Annual 2019 featuring the Thirteenth Doctor, Yaz, Graham, and Ryan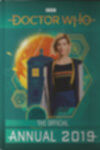 Published:
2018 BBC Children's Books
No. of Pages:
61
ISBN:
978-1-405-93376-6
Comic Strip Stories
Where's The Doctor? Part 1
Where's The Doctor? Part 2
Features
The First Doctor
The Second Doctor
The Third Doctor
The Fourth Doctor
The Fifth Doctor
The Sixth Doctor
The Seventh Doctor
The Eighth Doctor
The Warrior
The Ninth Doctor
The Tenth Doctor
The Eleventh Doctor
The Twelfth Doctor
The Doctor Falls
The Thirteenth Doctor
The Adventure Begins
Meet Ryan
Into the TARDIS
Meet Yasmin
TARDIS Twins
Time Twisted
Meet Graham
Doctor Who The Official Annual 2020 featuring the Thirteenth Doctor, Yaz, Graham, and Ryan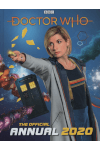 Published:
2019 BBC Children's Books
No. of Pages:
61
ISBN:
978-1-405-94085-6
Features
TARDIS Data File: The Woman Who Fell to Earth
TARDIS Data File: The Ghost Monument
TARDIS Data File: Rosa
Rally of the 12 Galaxies
TARDIS Data File: Arachnids in the UK
TARDIS Data Files: The Tsuranga Conundrum
TARDIS Data Files: Demons of the Punjab
Catch 22
The Pting Dilemma
TARDIS Data Files: Kerblam!
TARDIS Data Files: The Witchfinders
TARDIS Data Files: It Takes You Away
Survive the Antizone
Mirror, Mirror
TARDIS Data Files: The Battle of Ranskoor Av Kolos
TARDIS Data Files: Resolution
Sonic Sweeper
Time Lord Matrix
Stories
The Space Lord
The Rhino of Twenty-Three Strand Street
Doctor Who The Official Annual 2021 featuring the Thirteenth Doctor, Yaz, Graham, and Ryan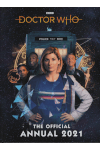 Published:
2020 BBC Children's Books
No. of Pages:
61
ISBN:
978-1-405-94607-0
Features
Meet the Fam
Fact File: Spyfall
Know Your Enemy: The Kasaavin
Crack Noor's Code
The Doctor vs The Master: The Best of Enemies
Fact File: Orphan 55
Know Your Enemy: Dregs
Colour Chameleon
TARDIS Trip Reviewer
Fact File: Nikola Tesla's Night of Terror
Know Your Enemy: The Skithra
Nikola Tesla's Word Search of Wonder
The Dalek Survival Guide
The Reconnaissance Dalek
Fact File: Fugitive of the Judoon
Know Your Enemy: Judoon
Catalogue the Criminals
Top Five Creatures Who Just Won't Quit!
Fact File: Praxeus
Know Your Enemy: Praxeus Creatures
Praxeus Source
TARDIS Tour
Fact File: Can You Hear Me?
Know Your Enemy: The Chagaska
Zellin's Nightmare World
Fact File: The Haunting of Villa Diodati
Know Your Enemy: Ashad
Mary Shelley's Monstrous Mash-ups
History's Finest
Fact File: Ascension of the Cybermen and the Timeless Children
The Secret of the Timeless Child
Know Your Enemy: The Cybermasters
The Dark Times
Who's Who in the the Dark Times
The Dalek Empire
Doctor Who The Official Annual 2022 featuring the Thirteenth Doctor, Yaz, Graham, and Ryan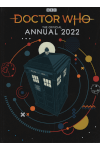 Published:
2021 BBC Children's Books
No. of Pages:
61
ISBN:
978-1-405-94802-9
Comic Strip Stories
Time Lord Victorious: The Archive of Islos
Features
The Doctor's Prison Diary
Fiendish Fours
Monster Cellmates: The Weeping Angels
Fam & Friends: All About Yaz
Captain Jack's Dalek Files: Evolution of the Daleks
The Doctor's Hidden History: The Timeless Child
Monster Cellmates: The Ood
Beat the Judoon
Bad Business with Jack Robertson
Monster Cellmates: The Sycorax
Top Secret!
What's the Time for You? Past, Present or Future?
Inside Number 10 with Yaz
Monstrous Mash-up
Monster Cellmates: The Pting
Fam & Friends: Psychic Wallpaper
Dalek Design Challenge
The Doctor's Hidden History: The Division
Monster Cellmates: The Silence
Scary Christmas and Unhappy New Year
Breaking Free!
Fam & Friends: Fam Farewell
Fam & Friends: What the Future Holds
Doctor Who The Official 60th Anniversary Annual 2023 featuring the Thirteenth Doctor, Yaz, and Dan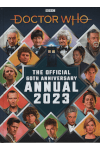 Published:
2022 BBC Children's Books
No. of Pages:
61
ISBN:
978-1-405-95229-9
Features
Team TARDIS: Meet the Crew
The Story so Far: The (Almost) Complete History of the Doctor
Friends & Foes: Dalek Time Twisters
Find the Friends
The Doctor's Family Album
Super Weapons
Friends & Foes: The Flux Friends
Dan's Grand Tour
The Most Glorious Triumphs of the Sontaran Empire
Treasure Hunts
Fact or Fib?
Friends & Foes: Revenge is Sweet
Friends & Foes: Fur and Wide
Friends & Foes: The Flux Foes
UNIT's Ultimate Showdown
Sea-ing Double
Regeneration
Friends & Foes: No Regrets
Stories
Clara Oswald and the Enchanted Forest