Colin Baker
Sixth Doctor
1984 - 1986
Virgin Missing Adventures

From 1994 until 1996 Doctor Who Books (part of Virgin Publishing Ltd) produced a range of full length novels - the Missing Adventures. These adventures were set between television adventures featuring past Doctors and companions, and often filled in some of the gaps in continuity.
I am the Lord President of Gallifrey. You can't put me on trial.
Burning Heart by David Stone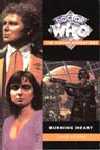 Published: 1997 Doctor Who Books
No. of Pages: 245
ISBN: 0 426 20498 0

THERE'S A GOD IN THE MACHINE - AND THE GOD IS INSANE
In a self-contained Habitat on Dramos, things are getting out of control. Twenty million humans and aliens are at each other's throats, the lid barely held on by the Church of Adjucation, who through their OBERON systems wield absolute power. And we all know what absolute power does.
Other things have been corrupted too. People, human and alien alike, are changing - mutating into something that, if left unchecked, could consume their entire enclosed world.
Arriving in this disintegrating cosmopolitan society, Peri falls in with the charismatic leader of the Human First, a movement dedicated to bringing order out of chaos. Meanwhile, the Doctor is powerless, imprisoned and put to the Inquisition by a church that really thinks its God is coming back.
If somebody doesn't do something, and do it soon, nobody's getting out alive.
State Of Change by Christopher Bulis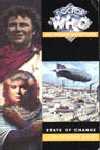 Published: 1994 Doctor Who Books
No. of Pages: 295
ISBN: 0 426 20431 X

'IN LESS THAN 25 YEARS THE ROMANS HAVE INVENTED ELECTRICITY GENERATION, AIRSHIPS, RADIO AND WHO KNOWS WHAT ELSE. IS THAT REASONABLE?'
Ancient Egypt, 41BC. The Doctor and Peri watch as Cleopatra's pleasure barge glides up the Nile in preparation for her fateful meeting with Mark Anthony. And an alien presence observes the TARDIS, waits for it to dematerialise, then pounces.
When the time ship lands, the Doctor and Peri find themselves in ancient Rome, in the tomb of Cleopatra. But something is very wrong. The tomb walls depict stream-driven galleys and other disturbing anachronisms. The Roman Empire is preparing for a devastating war - using weapons from the future capable of destroying the entire world.
Time Of Your Life by Steve Lyons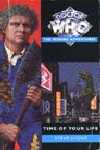 Published: 1995 Doctor Who Books
No. of Pages: 277
ISBN: 0 426 20438 7

'ORGANIC BUGS MUST BE PURGED FROM THE SYSTEM,' THE SCREEN TOLD HIM. THEN, MORE SUCCINCTLY, 'YOU DIE.'
The Network broadcasts entertainment to the planets of the Meson system: Death-hunt 3000, Prisoner: The Next Generation, Bloodsoak Bunny... Sixteen channels, and not one of them worth watching. But for the citizens of poverty-stricken Torrok, television offers the only escape from a reality too horrible to face.
Angela, a young inhabitant of Torrok, leaps at the chance to travel to the Network with a hermit who calls himself the Doctor. However, all is not well on the giant, chaotic space station. A soap star has murdered his wife's lover; the robotic regulars of Timeriders are performing random kidnappings; and a lethal new game show is about to go on air.
Can the Doctor uncover the cause of the apparently random disturbances - or will his appearance as a competitor on Death-hunt 3000 be the last of his life?
Killing Ground by Steve Lyons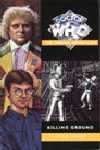 Published: 1996 Doctor Who Books
No. of Pages: 246
ISBN: 0 426 20474 3

'IMAGINE THAT YOU CAN LIVE FOREVER AND LIFE IS TOTALLY FREE FROM PAIN. YOU CAN SEE ALL THING WITH CLARITY, UNBLINKERED BY IRRELEVANT DETAILS. YOU WILL NEVER FEAR, NEVER SICKEN, NEVER LOSE CONTROL. THAT IS WHAT THE CYBERMEN ARE OFFERING.'
The Doctor takes his new companion, Grant, back home to Agora - only to find a world in the thrall of some of his oldest, and deadliest foes.
The Cybermen have taken control and set up a breeding colony to propagate their own race. While the Doctor languishes in a cell at the mercy of the sadistic Overseers, Grant joins up with a group of rebels and works on a desperate rescue bid.
With time running out, the rebels move into action. But will their solution prove more deadly that the problem itself?
Millennial Rites by Craig Hinton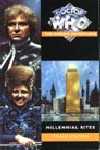 Published: 1995 Doctor Who Books
No. of Pages: 309
ISBN: 0 426 20455 7

'THE MILLENNIUM, MEL: THE LAST NEW YEAR'S EVE OF THE TWENTIETH CENTURY. BUT IT'S DEFINITELY NOT PARTY TIME.'
England, 1999: the Doctor and Mel have come to London to celebrate the new year with old friends - and to heal old wounds. But others are making more sinister preparations to usher in the new millennium. A software house is about to run a program that will change the fabric of reality. And an entity older than the universe is soon to be reborn.
When Anne Travers' fear of the Great Intelligence and millionaire philanthropist Ashley Chapel's secret researches combine, London is transformed into a dark and twisted mirror image populated by demons and sorcerers. Only the Doctor can put things right, but his friends have also been shockingly changed and he cannot trust anybody - least of all himself.