Christopher Eccleston
Ninth Doctor
2005
Quote from
Rose: There's no signal. We're out of range. Just a bit.
The Doctor: With a bit of jiggery pokery...
Rose: Is that a techical term?
The Doctor: Yeah. I came first in jiggery pokery. How about you?
Rose: No. I failed hullabaloo.
Rose and the Ninth Doctor.
DVD

In 2001 the BBC started to release Doctor Who adventures on DVD along with additional extra features and commentary. The DVDs offer digitally remastered picture and sound quality, and in some cases the soundtrack has been enhanced to 5.1 surround sound, and special effects have been enhanced wth the use of CGI.
Series 1 - Volume 1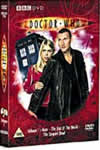 Released:
2005 BBC Worldwide
Runtime:
135 mins
BBCDVD:
1755
Rating:
12
Available from:
Series 1 Volume 1 contains the episodes 1. Rose, 2. The End of the World and the 3. Unquiet Dead
Series 1 - Volume 2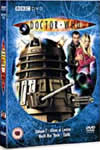 Released:
2005 BBC Worldwide
Runtime:
135 mins
BBCDVD:
1756
Rating:
12
Available from:
Series 1 Volume 2 contains the episodes 4. Aliens of London, 5. World War Three and 6. Dalek
Series 1 - Volume 3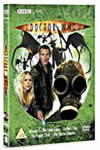 Released:
2005 BBC Worldwide
Runtime:
180 mins
BBCDVD:
1757
Rating:
12
Available from:
Series 1 Volume 3 contains the episodes 7. The Long Game, 8. Father's Day, 9. The Empty Child and 10. The Doctor Dances
Series 1 - Volume 4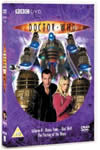 Released:
2005 BBC Worldwide
Runtime:
135 mins
BBCDVD:
1758
Rating:
12
Available from:
Series 1 Volume 4 contains the episodes 11. Boom Town, 12. Bad Wolf and 13. The Parting of the Ways
The Complete First Series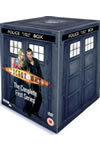 Released:
2005 BBC Worldwide
Runtime:
585 mins
BBCDVD:
1770
Rating:
12
Available from:
Features all thirteen episodes from the new series of Doctor Who
Extras:
Commentaries on all 13 episodes from cast and crew including Russell T Davies, Billie Piper, John Barrowman, Mark Gatiss and Simon Callow
Billie Piper's Video Diary - On Set With Billie
Making Doctor Who with Russell T Davies
Waking The Dead – Mark Gatiss video diary
Special Doctor Who Confidential disc with 13 specially edited episodes plus an exclusive episode 14 containing behind-the-scenes footage from The Christmas Invasion
Exclusive featurettes: Destroying the Lair; Mike Tucker's Mocks of Balloons; Designing Doctor Who,; Laying Ghosts – The Origins of The Unquiet Dead; Deconstructing Big Ben, The Adventures of Captain Jack
BBC Breakfast Interview with Christopher Eccleston
Trailers
Exclusive 5.1 Surround Sound
Collector's booklet including an introduction by Russell T Davies
English SDH subtitles for all video elements
Audio Description for all episodes