What are you going to do? Moisturise me?
Doctor Who Annual 2006 Featuring the Ninth Doctor and Rose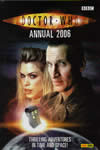 Published:
2005 Panini Publishing Ltd.
Number of Pages:
62
Stories
Doctor vs Doctor
Pitter-Patter
The Masks Of Makassar
What I Did On My Christmas Holidays By Sally Sparrow
Features
Behind The Scenes
Inside The TARDIS
Meet Rose
Meet The Doctor
Robot Rose
The Van Statten Code
Who's Who?